Vakker 35%CP Teeth Whitening Kit Strong Dental Gel Non Sensitive Tooth Whitener

FDA registered Gel, Have Safety Data Sheet. Safety use.if you want FDA sheet, we can provide to you detail sheet.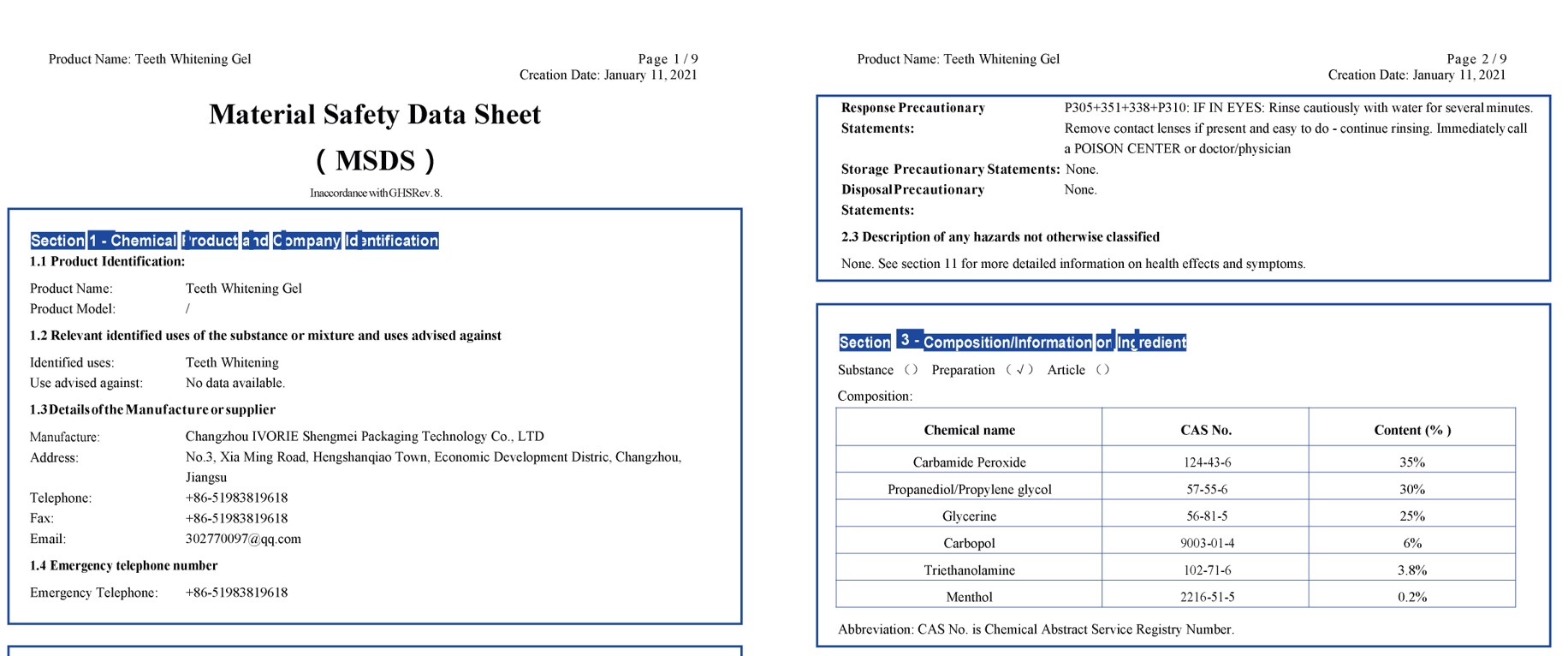 For Home whitenen teeth, Dental Clinic doctors whitenen Clients teeth, or wholesale customers

How to use the gel / Kit?

1, put 1ml gel into upper and lower trays,
2, use the light whitening 15-30 minutes each time
3, if you want whitening quickly, you can whitening your teeth every day,  your teeth will be pearly bright white within 7 days.don't less 5 times treatment per week.your teeth will be pearly bright white within 2 weeks.
4,  if you are sensitive teeth , you can use 0.5ml Remineralization gel after teeth whitening treatment, senstitive teeth customer can whitening 3-5 times one week,  the gel won't burn your teeth. your teeth will be pearly bright white within 2 weeks.
Remineralization Gel Link: 
https://www.ebay.com/itm/XXX/274900557116 

What is Remineralization Gel?
Remineralization gel reduces sensitivity of your teeth, it's great for people who have sensitive teeth, especially for first time bleachers, normally used after the bleaching treatment also can be used to make up the mineral lost while the bleaching session, Remineralization gel also known as desensitizing gel. 
Whitening Gel Ingredients:
Sorbitol, Water, Carbamide Peroxide ,Propylene Glycol, Glycerin, Potassium Nitrate, Polyethylene Glycol-8, Hydroxyapatite, Cellulose gum, Hydroxyethyl Cellulose, Xanthan Gum, Saccharin Sodium, Menthol, Methylparaben, Sodium Bicarbonate, Aloe Leaf Extract, Chamomile Extract, Pomegranate Seed Extract, Propylparaben.
Remineralization Gel Ingredients:
Potassium Nitrate, Carbopol, Deionized Water, Glycerine, PH Adjust Materials, Essence, Edible Pigment.

Packing list:
1x 5-LED Light
1x Silicone Tray ( 2 in 1 upper and lower tray)
3x 3ml Carbamide Peroxide Whitening Gel